Driveway Replacement Cork with K&K Construction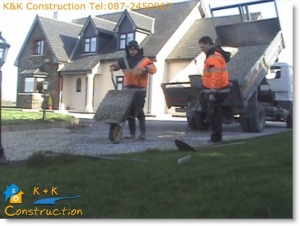 K&K Construction Cork considers a driveway as an important feature that should guide and invite you into your home. K&K Construction can replace or repair your existing driveway by offering traditional or modern, contemporary styles. Depending on your requirements we can provide a range of decorative finishes:
Concrete driveways undertaken

Stenciled concrete driveways undertaken. 

A wide selection of patterns and colours are available on request. Stenciled concrete creates the same visual impact as brick or stone paving. Also suitable for patio areas and footpaths.

Tarmacadam driveways undertaken

Stone chip driveways undertaken

Decorative chip driveways undertaken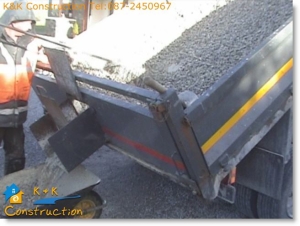 K&K Construction can conduct preparatory works for all driveways regardless of finish. This can include preparatory works for elaborate curved driveways and simple straight driveways.
Site Clearance

– Clearance of topsoil, subsoil, scrub etc. Soil can be stockpiled onsite or transported offsite if required.

Site Laser Leveled

– Preparatory works for kerb bedding, pier foundations, driveways or residential roadways.
With Driveway Replacement Cork you not only improve the look of your property, you increase the value of your property. K&K Construction can work with client designed driveways or make recommendations where necessary.  K&K Construction offer highly competitive prices and provide a detailed quotation before commencement of any project.
K&K Construction Driveway Replacement Cork offer a large range of services which include but not limited to the following:
Yards

Kerb Laying

Storm and Water Drains

Retaining Walls –

Concrete boundary walls and retaining walls with associated foundations.

Footpaths –

K&K Construction provide concrete footpaths for both domestic and commercial clients.

Duct and Cable Installation –

We install ducting, pull through cables for underground electricity supplies for outdoor lighting, remote access gateways, security and services between buildings.

Timber Decking

Sleeper Walls/Steps

Lawns areas can be created to a point where final landscaping can take place.
K&K Construction Driveway Replacement Cork Reputation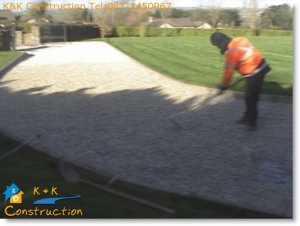 K&K Construction Driveway Replacement Cork fabulous reputation is as a result of providing high quality professional finishes within the client's budget. By using the services offered by K&K Construction Driveway Replacement Cork, clients have enjoyed the experience of seeing their homes and business being transformed and maintained at a reasonable cost, whilst adding value to their property. K&K Construction take pride on developing lasting relationships with their clients. They often find new clients have been recommended by previous clients in addition to existing clients requiring more projects to be undertaken.
Although K&K Construction Driveway Replacement Cork is completely independent, they regularly liaise with other professionals, insurance accesors, engineers and other trades. They can recommend other reputable local independent professional if required. K&K Construction are happy to manage any project, ensuring a project requiring multi-trade input runs smoothly.
K&K Construction Driveway Replacement Cork Guarantee

K&K Construction Driveway Replacement Cork is totally committed to ensuring the very best service and consults clients at every stage of the process. Their aim is to give every client 100% satisfaction and a finished project that clients can cherish for many years to come. They offer a friendly, honest, reliable, trustworthy, first class service.
Contact K&K Construction Driveway Replacement Cork today to answer any questions and to provide you with a free consultation regarding the construction services and maintenance solutions you have in mind.
Tel:  021-4546169
Mob Tel:  087-2450967
Email: info@homerepairscork.com
Find out the many different ways that K&K Construction Driveway Replacement Cork can help you solve your construction and maintenance problems.