K&K Construction Subsidence Repairs Specialist Cork
Why is foundation underpinning necessary?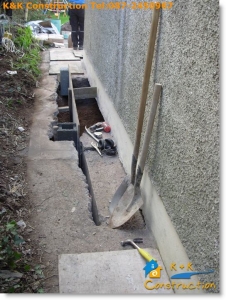 Underpinning is the process of strengthening and stabilizing the foundation of an existing building or other structure. Building foundation weaknesses and problems lead to settlement of building and the formation of subsidence cracks on the walls and building structure. Subsidence cracks are not to be mistaken for common shrinkage cracks due to moisture. Subsidence cracks usually increases in width and seriousness over a long period of time leading to the large diagonal cracks formations. K&K Construction Subsidence Repairs Specialist Cork can assist in the repair of building cracks. Underpinning may be necessary for a variety of reasons:
The original foundation is simply not strong or stable enough.
The usage of the structure has changed.
The properties of the soil supporting the foundation may have changed (possibly through subsidence) or were misclassified during design.
Soil changes may occur after a heavy downpour in foundations back-filled with soils having a high collapse potential.
During the occurrence of an extended drought especially for raft foundations supported on expansive soils which contract with moisture lost.
The construction of nearby structures necessitates deep excavation of soil supporting existing foundations.
During the lowering of ground water table.
It is more economical, due to land price or otherwise, to work on the present structure's foundation than to build a new one. Underpinning is accomplished by extending the foundation in depth or in breadth so it either rests on a more supportive soil stratum or distributes its load across a greater area. Use of piles and jet grouting are common methods in underpinning. An alternative to underpinning is the strengthening of the soil by the introduction of a grout. All of these processes are generally expensive and elaborate.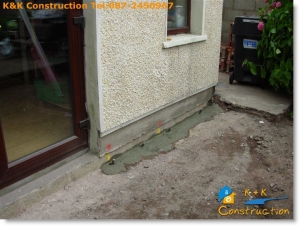 Underpinning may be necessary where 'Class P' soils in certain areas of the site are encountered. Class-P soils are classified as problem sites based on soil reactivity. The ability of the soil to evenly bear a load is very poor. Sites may be classified as 'Class P' as a result of mine subsidence, landslip, collapse activity or coastal erosion. Ground movement as a result of moisture changes may be very severe. If you are building on a Class P site you will need to consult a structural engineer. K&K Construction Subsidence Repairs Specialist Cork can assist in recommending an engineer for your project.
Detailed soil investigations and site monitoring to determine the cause of the foundation failure is often needed in order to select the appropriate underpinning method. Underpinning is a generic term to describe the process of strengthening an existing foundation by adding support to transfer the building loads to more competent soil layers.
A building structure must be founded on some kind of foundation that can transfer the building loads onto competent soil layers below it. It is common for low rise housing to use raft footing founded directly on the compacted top layer, but piles may be required to transfer the column loads deeper into the ground if the top soil is weak. When the building structure experiences distress, more often than not it is caused by foundation failures rather than inadequate structural design.
Current methods in underpinning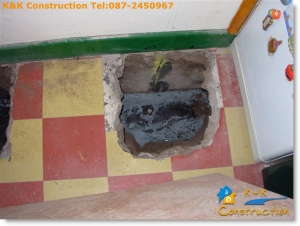 Due the multiple causes for foundation failures and movements, it will be necessary to carry out underpinning at the vulnerable positions where the foundation is particularly weak. If the footing is observed to have settled around at the peripheral of the building, underpinning from the outside of the building may be helpful. However if there are internal columns that are settling, then underpinning must be carried inside the building.
Underpinning carried out outside the peripheral building may be non-invasive and least disturbing to residents. Underpinning inside the building is invasive and hazardous and normally requiring the evacuation of residents. Existing methods require heavy machineries to push/inject the mini piles with extensive structural works to transfer the building column loads on to the newly installed piles. To construct new foundation mini piles inside the confines of the building, the contingency cost of reinstating the interior architectural finishes and fittings of the house due to the invasive underpinning works may be expensive. K&K Construction Subsidence Repairs Specialist Cork can assist in reinstating the interior architectural finishes and fittings of the house.
Mass Concrete Underpinning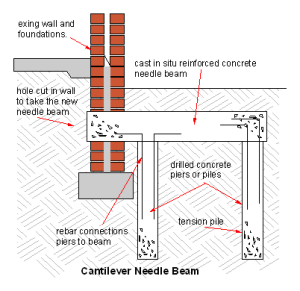 'Traditional underpinning,' the mass concrete underpinning method is nearly 100 years in age, and the protocol has not changed since. This underpinning method strengthens an existing structure's foundation by digging boxes by hand underneath and sequentially pouring concrete in a strategic order. The final result is basically a foundation built underneath the existing foundation. This underpinning method is generally applied when the existing foundation is at a shallow depth, however, the method still works very well even at fifty feet deep. The method has not changed since its inception with its use of utilitarian tools such as shovels and post hole diggers. Heavy machinery is not called for in this method due to the tight nature of the boxes being dug. There are several advantages to using this method of underpinning including the simplicity of the engineering, the low cost of labor to produce the result, and the continuity of the structure's uses during construction.
Beam and base underpinning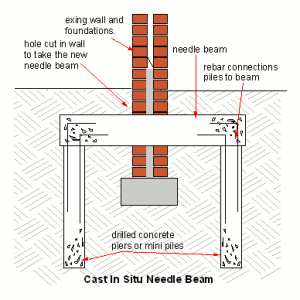 The beam and base method of underpinning is a more technically advanced adaptation of traditional mass concrete underpinning. A reinforced concrete beam is constructed below, above or in replacement of the existing footing. The beam then transfers the load of the building to mass concrete bases, which are constructed at designed strategic locations. Base sizes and depths are dependent upon the prevailing ground conditions. Beam design is dependent upon the configuration of the building and the applied loads. Anti-heave precautions are often incorporated in schemes where potential expansion of clay soils may occur.
Mini-piled underpinning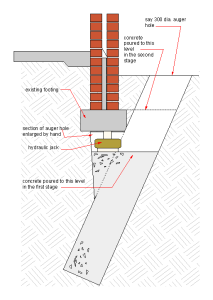 Mini-piles have the greatest value where ground conditions are very variable, where access is restrictive, where environmental pollution aspects are significant, and where structural movements in service must be minimal. Mini-piled underpinning is generally used when the loads from the foundations need to be transferred to stable soils at considerable depths – usually in excess of 5.0 metres. Mini-piles may either be augured or driven steel cased, and are normally between 150mm and 300mm in diameter. Structural engineers will use rigs which are specifically designed to operate in environments with restricted headroom and limited space, and can gain access through a regular domestic doorway. They are capable of constructing piles to depths of up to 15 metres. The technique of minipiling was first applied in Italy in 1952, and has gone through a plethora of different names, reflecting worldwide acceptance and expiration of the original patents.
The relatively small diameter of mini-piles is extremely distinctive of this type of underpinning and generally uses anchoring or tie backs into an existing structure or rock. Conventional drilling and grouting methods are used for this method of underpinning. These mini-piles have a high slenderness ratio, feature substantial steel reinforcing elements and can sustain axial loading in both senses. The working loads of mini-piles can sustain up to 1,000kN loads.
In comparison to Mass Concrete Underpinning, the engineering aspect of mini-piles is a bit more involved, including rudimentary engineering mechanics such as statics and strength of materials. These mini-piles must be designed to work in tension and compression, depending on the orientation and application of the design. In detail, attention with design must be paid analytically to settlement, bursting, buckling, cracking, and interface consideration, whereas, from a practical viewpoint, corrosion resistance, and compatibility with the existing ground and structure must be regarded.
Mini-piled underpinning schemes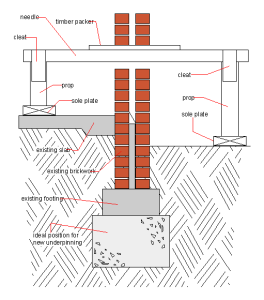 Mini-piled underpinning schemes include pile and beam, cantilever pile-caps and piled raft systems. Cantilevered pile-caps are usually used to try and avoid disturbing the inside of a building and require the construction of tension and compression piles to each cap. These are normally linked by a beam. The pile and beam system usually involves constructing pairs of piles on either side of the wall and linking them with a pile cap to support the wall. Again, the pile caps are usually linked by reinforced concrete beams to support the entire length of the wall. Piled raft underpinning systems are commonly used when an entire building needs to be underpinned. The internal floors are completely removed, a grid of piles is installed and a reinforced concrete raft is then constructed over the complete floor level, picking up and fully supporting all external and internal walls.
Graphs Reference:  http://en.wikipedia.org/wiki/Underpinning
K&K Construction Subsidence Repairs Specialist Cork Reputation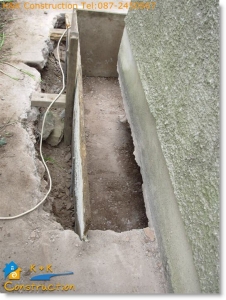 K&K Construction Subsidence Repairs Specialist Cork's fabulous reputation is as a result of providing high quality professional finishes within the client's budget. By using the services offered by K&K Construction Subsidence Repairs Specialist Cork, clients have enjoyed the experience of seeing their homes and business being maintained at a reasonable cost, whilst adding value to their property. K&K Construction take pride on developing lasting relationships with their clients. They often find new clients have been recommended by previous clients in addition to existing clients requiring more projects to be undertaken. Although K&K Construction Subsidence Repairs Specialist Cork is completely independent, they regularly liaise with other professionals, insurance assessors, engineers and other trades. They can recommend other reputable local independent professional if required. K&K Construction are happy to manage any project, ensuring a project requiring multi-trade input runs smoothly.
K&K Construction Subsidence Repairs Specialist Cork Guarantee

K&K Construction Subsidence Repairs Specialist Cork is totally committed to ensuring the very best service and consults clients at every stage of the process. Their aim is to give every client 100% satisfaction and a finished project that clients can cherish for many years to come. They offer a friendly, honest, reliable, trustworthy, first class service. Contact K&K Construction Subsidence Repairs Specialist Cork today to answer any questions and to provide you with a free consultation regarding the construction services and maintenance solutions you have in mind.
K&K Construction
No. 29 St. Anne's, Wilton Road
Cork City, Ireland
Tel:  021-4546169
Mob Tel:  087-2450967
Email: info@homerepairscork.com
Areas Covered by K&K Construction Subsidence Repairs Specialist Cork
K&K Construction Subsidence Repairs Specialist Cork are pleased to provide their services to the following areas of Cork City and Cork County:
Townlands A-B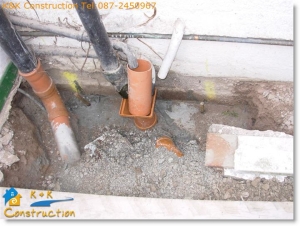 Adamstown, Aghamarta, Anngrove, Ardarostig, Ballea, Ballinaboy, Ballincollig, Ballinglanna, Ballinhassig, Ballinlough, Ballinluska, Ballinora/Ballynora, Ballinphellic, Ballinrea, Ballinreeshig, Ballintemple, Ballinure, Ballinveltig, Ballinvuskig, Ballybrack (Douglas), Ballybricken, Ballyburden, Ballycannon, Ballycurreen, Ballydaniel, Ballydeloher, Ballyduhig, Ballyhank, Ballyheedy, Ballyleary, Ballyleigh, Ballymacthomas, Ballymore, Ballynagarbragh, Ballynagromoolia, Ballynametagh, Ballynatra, Ballynoe, Ballyphehane, Ballyregan, Ballyshoneen, Ballyvolane, Barryscourt, Bawnafinny, Belvelly, Bishopstown, Blackpool, Blackrock, Blarney, Britfieldstown.
Townlands C-D
Cahergal, Caherlag, Carhoo, Carrig, Carrigabrochell, Carrigaline, Carrigaloe, Carrigrohane, Carrigtwohill, Clash, Clashavodig, Clogheenmilcon, Cloghphillip, Cloneen, Clyduff, Cobh, College (UCC), Commeen, Coolatanavally, Coolmore,
Coolroe, Coolyduff, Coolymurraghue, Corbally, Corlane Bank, Corran, Courtstown, Crosshaven, Currabally, Currrabinny, Currykippane, Cuskinny, Doughcloyne, Douglas, Dromgurrihy, Dublin Pike, Dunkettle.
Townlands F-K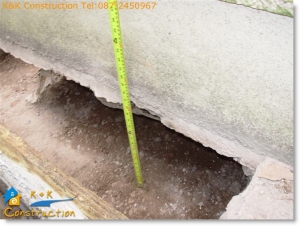 Fahalea, Farranadahadore, Farranmacteige, Fivemilebridge, Fota Island, French Furze, Garranedarragh, Garravagh, Garrycloyne, Glasheen, Glounthaune, Gogganshill, Golden Rock, Gortagoulane (near Lehenagh), Gortnamucky, Grange, Great Island, Gurranabraher, Halfway, Haulbowline, Hoddersfield, Inchera, Inishkenny, Kerry Pike, Kilbarry, Kilcoolishal, Kilcully, Killacloyne, Killanully, Killard, Killeendaniel, Killeens, Kilnaglery, Kilnaglory, Kilnahone, Kilnap, Knockalisheen, Knockmore, Knocknacullen, Knocknahorgan, Knocknalyre, Knocknamullagh, Knockpogue.
Townlands L-R
Lackaroe, Lahardane, Lehenagh, Liskillea, Lissanisky, Little Island, Lotamore, Lough, Loughbeg, Maglin, Mayfield, Monard, Moneygurney, Monkstown, Morrison's Island, Myrtleville, Parkgarriffe, Passage West, Poulacurry, Pouladuff, Poulnacallee/Church Bay, Raffeen, Raheen, Rathcooney, Rathmacullig, Rathpeacon, Rathroe, Rearour, Ringacoltig, Ringaskiddy, Ringmahon, Riverstown, Roches Point, Rochestown, Rossmore, Rowgarrane

Townlands S-W
Sallybrook, Scart, Shanagraigue, Shanbally, Shandon, Sixmilewater (parish of Whitechurch), Skehanagh, Spike Island, Sraleigh, Sunday's Well, Templenakilleeny, The College (UCC), The Lough, Tibbotstown, Togher, Trabolgan, Tullig, Waterfall/Tobaranearla, White's Cross, Whitechurch, Whitegate, Wilton, Woodstock.
If you have any questions or comments you can send us your enquiry by using the free webpage voice message service on the right hand side of this web page.  Alternatively you can contact K&K Construction Cork today to answer any questions and to provide you with a free consultation regarding the construction services and maintenance solutions you have in mind.
Tel: 021-4546169
Mob Tel: 087-2450967
Email: info@homerepairscork.com
Find out the many different ways that K&K Construction Subsidence Repairs Specialist Cork can help you with your construction and maintenance solutions.